The Governing Council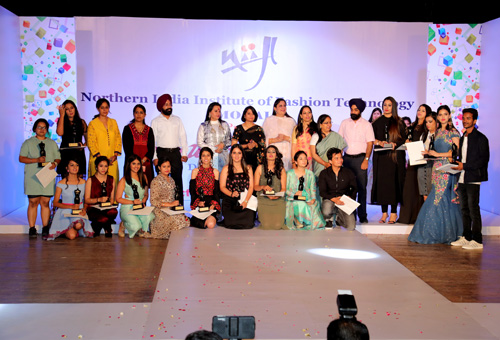 The institute functions under the overall guidance of the Governing Council. The Strategies and long term policies of NIIFT are framed, progressively updated and monitored by a team of eminent celebrities, specialists and senior government officials. The overall direction and support provided by the governing council of NIIFT has helped us sustain the highest standards of education.
The Governing Council consists of:
CHAIRMAN
Sh. D.P. Reddy, IAS
Principal Secretary Industries & Commerce, Punjab

MEMBERS
Sh. D.P. Reddy, IAS
Principal Secretary Industries & Commerce, Punjab
Chairman,NIIFT
S.Raminder Singh , IAS
Director-cum-Addl. Secretary,
Industries & Commerce, Punjab
Director General, NIIFT
Sh.Vishav Bandhu
Director
Sh. Tarsem Lal Khosla
Industrial Advisor
Department of Industries and Commerce, Punjab
Sh. K.S. Brar
Textile Officer (Handlooms)
Department of Industries & Commerce, Punjab
Sh.Munish Bagrodia
M/s Winsome Yarns Ltd., Chandigarh
Sh.Akhil Succena
Principal Designer
National Institute of Design, Paldi, Ahmedabad
Sh.Rajinder Gupta
M/s Trident Group of Industries , Ludhiana.
Sh. Sudhir Dhingra
M/s Orient Crafts Ltd., Gurgaon.
Sh. Rahul Khanna & Rohit Gandhi
Fashion Designers
Sh. Vikram Sehgal
M/s Om Shanti Lane, Verka Majitha Bye Pass
Village Pandori Waraich, PO Khanna Nagar, Amritsar
Email:vikramsuiting@yahoo.co.in
THE ADMINISTRATION
S. Raminder Singh, IAS
Director General
Sh. Vishav Bandhu
Director
S. Inderjit Singh
Registrar
Sh. Madan Lal
Assistant Registrar
Sh.Mahesh Khanna
Center-In-Charge, Ludhiana
S.Surjit Snigh
Center-In-Charge, Jalandhar
Mr.Satnam Singh
Assistant Librarian
Ms.Diksha Jagota
Library Assistant
THE FACULTY
Poonam Thakur
(Academic Head, Mohali)
MSc. (Clothing & Textiles)
Gold Medalist, Diploma in CAD, Advance Diploma in
Garment Exports & Marketing Mgt.

Taranjot Ahuja
B. Tech. (Textiles) from NIT,Jalandhar, Gold Medalist
Email: ccfmm@niiftindia.com
Dr. Simrita Singh
Phd in Design and Fine Arts, M.A. History of Art , BFA (Applied Art) fom Punjab University

Meeta Arora
Masters in Fashion Technology, NIIFT , Hyderabad
MA Sociology,PGDBA Mkt Management from Symboisis,Pune

Ajay Singh
B.Sc (Computer Science)
Post Graduate Diploma in Computer Application(PGDCA)
Masters in Computer Applications(MCA)
Gobind Rai
Specialization in Pattern Cutting from
London Centre for Fashion Studies, London,
UK Advance Training in CAD (PM & G) Paris, Email:ccfd@niiftindia.com
Shweta Sharma
Masters in Design(Textile) from NIFT, New Delhi.
Email:ccfd@niiftindia.com

Kamaljit Singh Rana
BE(Industrial and Production), MBA (production & Operations Management)

Mr. Madan Lal
Five Year Degree in Fine Arts, BFA, College of Arts, Chd,
Punjab University, Chandigarh.
Ms. Navdeep Kaur
BA, Punjab University, Chandigarh
Diploma in Fashion Design from NIIFT, Mohali
MBA from PTU ,Email: ccgmt@niiftindia.com
NIIFT LUDHIANA
Deepti Sharma
(Academic Head, Ludhiana)
MA Sociology, MA (Hindi Literature),B.Ed., M.Ed
Masters in Knitwear Design
and Technology, NIFT, Delhi.
Email: ccfdk@niiftindia.com

Ms. Rajwinder Kaur
MA (Fine Arts), Punjab University
UGC NET(Fine Arts)

NIIFT JALANDHAR
Ms. Navneeta
B.Sc (Clothing and Textiles)
MFT,PTU,
CAD,CAM, Electra from INFOPAK
Certificte in FDCT from NIFT, Delhi
Ms. Avneet Kaur
Diploma in Fashion Designing


ANU KAMA

The Final Collection is a virtual reality of the hard work and toil of our students and the faculty who have put in their time, energy and inspiration. The collection encapsulates the technical accomplishments , the creative flair and the philosophy behind the concept and the designs. are indeed objects of art.concept and the designs.