Resource Centre is centre of information and knowledge which supports the teaching and research programmes of the institute. The resource centre has a varied collection of textiles, costumes, samples, swatches, embellishments, accessories and garments.
It has a wide range of textile materials which include Indian Traditional & contemporary, woven, knitted, printed and embroidered fabrics. Fabrics which are being specially produced for exports are also stacked in the Resource Centre for reference. Students and faculty go for craft surveys to various places in India to source rare traditional fabrics and craft material for the Resource Centre.
Various Indian and imported embroideries, laces, yarns, trims, beads, buttons, zippers, fusing, interlinings and other such valuable materials are catalogued in the Resource Centre for reference. Award winning ensembles of the final Design Collections of students of this Institute are also displayed in the Resource Centre.


ANU KAMA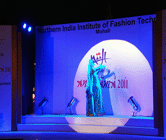 The Final Collection is a virtual reality of the hard work and toil of our students and the faculty who have put in their time, energy and inspiration. The collection encapsulates the technical accomplishments , the creative flair and the philosophy behind the concept and the designs. are indeed objects of art.concept and the designs. Our presentations are indeed